---
Convention Appearances 2013
Meet writer/artist Dale Berry at the following shows for autographs & sketches. You can purchase our entire line of books, including our latest, Tales of the Moonlight Cutter #5: Grimoire. Check back often for updates!
May 18-19, San Jose Convention Center, Space #AA144. The original artist-friendly convention.


July 17-20, San Diego Convention Center. The biggest pop culture event in the world!
Myriad Publications returns to space #E2.
---
Tales of the Moonlight Cutter #5: Grimoire
A collection of supernatural stories and art featuring the Master of the Cold Moon Sword, rendered by a host of fans, pros, and talented newcomers!
Featuring an intense new tale by creator Dale Berry, plus artist/martial arts instructor Robert Zailo, photographer Sebastian Castillo, illustrator Sean Sagawa, and many others! 72 Big Pages, at a Price-Busting $6.50.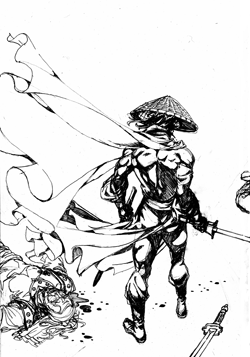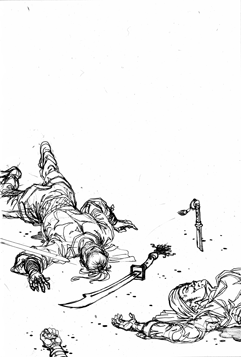 Now Available -- Order yours today!
---
Long Live the Wild Hare: A Rock Radio Story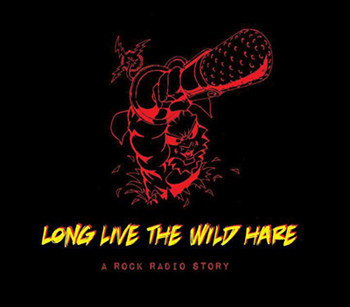 It's been called "the dirtiest station in the country." Its public events made the national news, and it was featured on the TV show "Cops" (twice!). It was 103.7 KRZR, "the Wild Hare," and for listeners from Maine to Mongolia, it brought the hardest in hard rock.
Now, here's the unauthorized documentary of Fresno, California's legendary renegade rock station. Featuring artwork and commentary by Wild Hare Artist and DJ/Air Personality Dale Berry, among many others.
To order the DVD, visit here.
For more information, visit the Facebook page.
---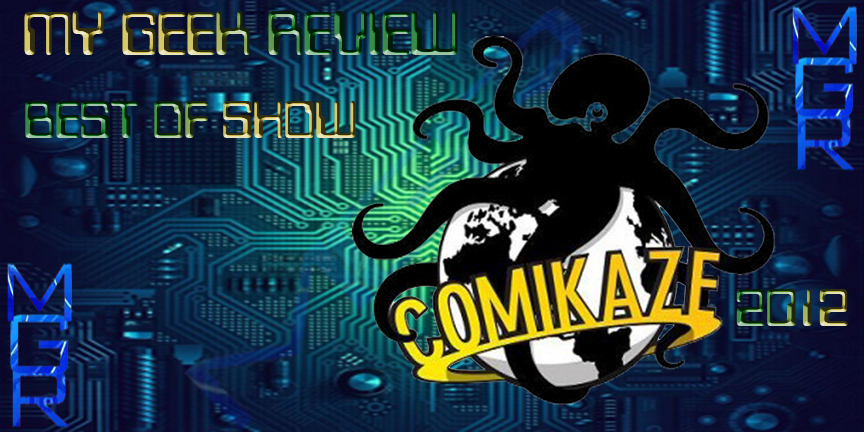 Myriad Publications was awarded Best In Show at Stan Lee's Comikaze Expo by MyGeekReview.com.
---
New Tales Sells Out First Day of Comic Con 2012!
By Thursday, Tales of the Moonlight Cutter #5: Grimoire had completely sold out! Dale took orders for the rest of the week from hungry fans. Our deepest thanks and our most sincere appreciation goes out to all our readers for this unprecedented response. You're the best! (And your books are on their way...!)
---
Myriad at the PSWA: The coffee's on us!
Writers and novelists from the fields of law enforcement, fire fighting, emergency response and security met for the Public Safety Writers Association Annual Conference, July 12-15, 2012, at the Orleans Hotel & Casino in Las Vegas, Nevada. Myriad Publications was the proud sponsor of the Hospitality Suite on Sunday.
---
Myriad Pubs. New Address!
We've moved! Our new digs in the Bay Area:
Myriad Publications
615 Randolph Street
San Francisco, CA 94132
---
New Series Preview!



Dale has created a collection of artwork for a brand new series, inspired by classic characters from the pulp magazines of the 1930's, the heroes of comics' 1940's Golden Age, movie serials, and film noir!

Black Scarab: A Pulp Hero Portfolio is a privately printed, limited edition art book of only 200 copies, each numbered and signed by the author. $10, and can be ordered here.
---
USA Today Talks to Dale Berry at SDCC
Dale joins Stan Lee, Pauly Shore, and others at the San Diego Comic-Con for USA Today. Look for Dale in this video clip at about 1 minute 30 seconds.
---
First Tales of the Moonlight Cutter Sold Out!
Now available in its 2nd Big Printing! Order your copy now!
---
Moonlight Cutter in Digital Format
The Moonlight Cutter series is now available for download from NexStudios.jp.

---
Moonlight Cutter Now Available from Diamond's Star System
Due to high sales and continued demand, the entire Tales of the Moonlight Cutter series has been added to Diamond Distributor's Star System, where it is now available to comic book stores anytime! Retailers, contact your Diamond representative for orders!
Tales of the Moonlight Cutter #1: PO Number: DEC073817
Tales of the Moonlight Cutter #2: PO Number: MAY032424
Tales of the Moonlight Cutter #3: PO Number: JAN022624
---
Shen Hua Yen on the Big Screen?
Tales of the Moonlight Cutter has been approached for film and television development. Check back for project details as they evolve!
---
Moonlight Cutter In The News
Tales of the Moonlight Cutter received positive mention in BLACK BELT Magazine's coverage of the 2007 San Diego ComicCon International! Read about it in BLACK BELT's Bruce Lee Anniversary Issue (November 2007), or online now:
http://www.blackbeltmag.com/archives/552 (Thanks to editor Ed Pollard.)
Tales of the Moonlight Cutter and Dale Berry also received a positive review in the Fresno Bee on September 20, 2007:
http://www.fresnobee.com/columnists/bentley/story/143549.html
---
Paypal Ordering Now Available
Visit the Order Info page to order your favorite Moonlight Cutter issues using Paypal.
---
Now Available on Amazon.com
You can visit Amazon.com to order your favorite Moonlight Cutter issues.
---
George MacDonald Fraser's notorious literary scoundrel brought to visual life!
---
---
T-Shirts Available
Get your exclusive Tales of the Moonlight Cutter T-Shirt! Contact merdog2001@hotmail.com. $15 plus $2.50 shipping and handling.
---